By
Mark
on November 8th, 2010
Posted In:
Blog
I saw this fryer in action on Fox News' Huckabee program last night. I've eaten deep fried turkey before and, hands down, it's the best! The turkey comes out juicy and perfectly cooked! The taste is really out of this world! It makes you want to deep fry a turkey every Thanksgiving!
The only problem is, sometimes deep frying a turkey can be a bit hazardous. Every Thanksgiving, you always hear at least one terrible news story involving an outdoor deep fryer dumping over and setting a deck or garage on fire.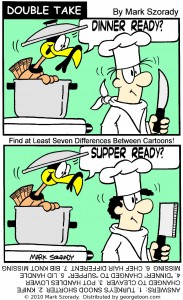 Well, this device appears to have solved the safety problem. It's electric and can be safely used indoors. Deep fry up to a 14 pound turkey!
It's getting rave reviews on amazon.com and from what I can see around the internet the one I've linked to on amazon.com is almost half off the original $199.00 price tag!
So, if you want to deep fry a turkey this year, you might want to give the Masterbuilt 20010109 Butterball Professional Series Indoor Electric Turkey Fryer
a try! And while you're waiting to place your order, enjoy this Thanksgiving Double Take cartoon. Click on the image to enlarge, print out, and play! Feel free to share it with family and friends. And don't forget to share this on your Facebook or Twitter accounts! Just click on any of the social network icons below this blog post.