By
Mark
on April 26th, 2011
Posted In:
Blog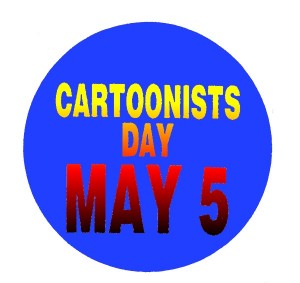 May 5th is Cartoonists Day.  It's a day that draws (sorry 'bout the pun) attention to all who doodle, draw and cartoon their way through life.
Comic strips and cartoons are a uniquely American art.  Cartoons have made an amazing impact on our popular culture and society in general.  Cartoons and cartoonists have shaped public opinion, aided education, promoted literacy, and entertained audiences worldwide.
If you look around, you'll see cartoons everywhere teaching kids, selling products, informing the public, and  much more.
If you want to learn more about cartoons and cartooning, and see a wonderful history of cartoons through original art and other displays,  plan a visit to the Billy Ireland Cartoon Library & Museum in Columbus, Ohio on the campus of The Ohio State University.
Cartoonists Day also sometimes coincides with Free Comic Book Day.  Free Comic Book Day is the the first Saturday in May.
As the web site states, "Free Comic Book Day is a single day – the first Saturday in May each year – when participating comic book shops across North America and around the world give away comic books absolutely FREE* to anyone who comes into their stores. *Check with your local shop for their participation and rules."
When Free Comic Book Day rolls around, I sometimes get invited to a local comic book shop where I spend the day drawing George cartoons and talking with comic book fans.  it's a lot of fun and really nice to get out for a while. Plus, the weather has finally warmed up.
A couple of years go, my cartoonist friend Polly Keener and I spent the day at a terrific comic book/toy store called The Toys Time Forgot.
It's at these events that I bring along my Linux laptop/notebook and set it up to display a slide show of all my cartoons (and Polly's).
I used DigiKam to create the slide show. It's a terrific photo management program and worked equally well when I imported all my cartoons.
I have to tell ya, folks are always really impressed with Linux! When the Operating system was in action, the first thing they asked was, "What is this? Is it Windows? " Their own question cast doubt about it being Windows because they could see that Linux was doing things a bit differently from Windows.
It looked cleaner. It looked cool. They also noticed that there was a greater stability, a familiar interface, ease of use, and lot less strain on system resources.
Applications booted quickly! When I showed all the features of multiple desktops, free software (LibreOffice, Gimp, etc.), full customization, and other goodies, many commented that they wanted to toss their Windows system and get Linux ASAP!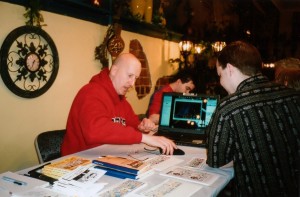 In the photo at left, I'm demonstrating The Gimp and how I use it to help create my cartoon features. (The laptop's display in these photos looks darker than it actually is. A photographic problem with lighting in the room) The Gimp is really a terrific application. I met a lot of parents who wanted to know what sort of graphics application they should buy for their son or daughter. These kids usually attend these events with their sketchpad to show me the cartoons they've created. They want to take the next step and get their cartoons into the computer so they can work on them digitally. That's when I pulled the laptop front and center to show them Gimp.
Gimp comes with every Linux distro and does everything PhotoShop does and the cost is…FREE! The simple solution is to grab that old Windows box that no longer works due to virus infection, download Linux, and do a complete install. You wipe out Windows and you gain Linux security, Gimp and other terrific apps. And for the family on a budget, this is a perfect solution. You can also buy a system pre-installed with Linux. Either way, you get cutting edge technology to do everything that Windows and Mac do.  But the price is much more agreeable.
This coming Cartoonists Day and Free Comic Book Day, after you're done picking up your free comic books, get something else for free. Get Linux!   Install it on your home computer and watch it release your creativity with terrific, free Open Source apps and software.
Get Linux and get creative.
(Editor's note: This article by Mark Szorady contains material from a blog post that previously appeared on oneclicklinux.com.  We felt it would be informative here on georgetoon.com.)