I've been continuing my adventure through the Google Chrome/Chromium browser.  As a cartoonist, I use (and require) software that allows me to digitally alter/edit my cartoon creations.  I also need to do the same for photos for this blog.
Since using Google Chromium, I've been installing and test driving many different apps.  Chrome/chromium has several photo editing apps that work quite well.
iPiccy is one that does some basic digital editing quickly and cleanly.  It has a nice assortment of tools and filters and most editing functions work with just a click or two of the mouse.
Simply open the app (it's free, no need to register), upload a photo, and edit using the smart tools.  Once you've completed editing, you can save back to your computer's local folder.  You can also upload it to the web to share with friends.
The photo at left is of my Kindle. I applied a pencil  drawing filter in a single click and allowed iPiccy to share it.  You can view the shared photo here.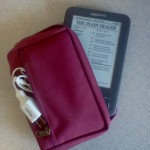 To show you how neat the progam and the filter is, here's the orignal photo.
iPiccy is fast, powerful, and fun to use.  If you need a photo editing application, the fastest way to get one is the get the Chrome bower.  Then, install iPiccy from the Chrome Web Store.
In less time than you can imagine, you'll be edting photos online for your blog, school papers, and presentations.