By
Mark
on April 5th, 2011
Posted In:
Blog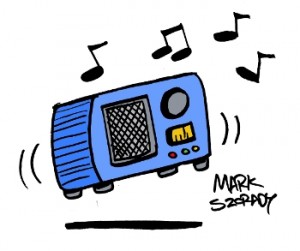 When I'm at the drawing board or in front of my Linux computer, I like to fill the air with some background sound.  That usually means turning on the radio.
As I've mentioned before, I love listening to the radio when I'm drawing or pounding out the latest blog entry.  I guess because television requires that I stop and look up from what I'm doing.   Radio doesn't.  All I have to do is listen.
I mostly listen to talk radio and news.  And I like listening to my music collection.  However, that collection of CD's sits fairly idle due to internet radio.
Internet radio has become my mainstay here in the studio. It brings in about 15,00 stations of all genres from around the world via the Reciva database system.
If you're interested in getting an internet radio I can recommend  two. The Sangean WFR-20 WiFi Internet Radio & Media Player is a terrific radio with glorious stereo sound quality.  A little pricey, but the rich sound and exquisite finish of the radio make it worth the few extra coins.  It fits in with any decor.  It won't disappoint.  If money is an issue, the  Grace Digital Wireless Internet Radio featuring Pandora and NPR (GDI-IR2000) is a nice budget choice.  It has terrific mono sound and easy to use controls. It's a nice, affordable introductory internet radio.
One of the 15,000 I stumbled upon is a terrific internet radio station called Martini In The Morning. You can find them at http://www.martiniinthemorning.com.
If you're like me and enjoy listening to vocalists like Frank Sinatra, Bobby Darin, Dean Martin, Nat King Cole, The Rat Pack, etc., then this is the station for you!
MITM morning plays all the great vocalists and standards, but they also offer newer voices on the music scene today like Michael Bublé, Harry Connick, Jr., Diana Krall, and Steve Tyrell.

The station really does play a terrific blend of the Great American Songbook.  Whether you're at the office or at home, surf on over and stream 'em live.