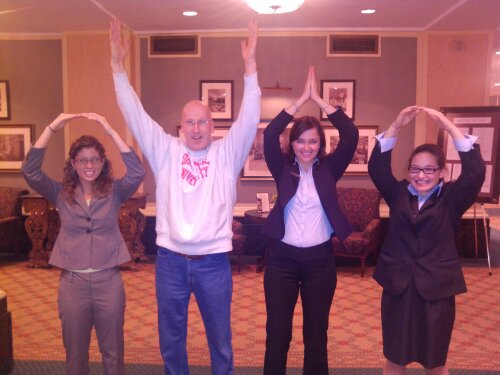 The National Cartoonists Society's 2013 Reuben  Awards have come and gone and I had a blast!  This year, they were held in Pittsburgh,  PA at the Omni William Penn Hotel.   The accommodations were top notch and the entire staff  really went out of their way to ensure a pleasant stay. So much so, that the staff agreed to to help me salute my Alma Mater, The Ohio State University by spelling out "Ohio!"
While checking out, I learned that Stephanie (the first "O") hailed from Canton, Ohio. Being the true Buckeye, she immediately saw the historic significance of spelling "Ohio" in Pennsylvania! Marguerite (our "I") and our second "O" enthusiastically jumped in.
The photo capped off a wonderful weekend in a really terrific city.
And if management happens to see this photo, let me add that these Omni staff members were always pleasant, very thoughtful in answering my questions, enthusiastic, and great ambassadors for Pittsburgh and Omni hotels. And they have a great sense of humor, too. (I know humor…remember, I'm a cartoonist.)
With dedicated employees like Stephanie and Marguerite, things in Pittsburgh and at the Omni will be just fine.
Planning a vacation this Summer? Then make it a point to visit Pittsburgh and stay at this wonderful hotel rich in history. You won't be disappointed.
Congratulations to all the Reuben winners and Go Buckeyes!  (and stay tuned for more Reuben photos!)