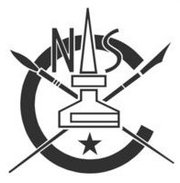 This past Saturday, The National Cartoonists Society gathered in Boston for the annual Reuben Awards.
It was an extra special night as the NCS  awarded Ohio State Professor Lucy Shelton Caswell the Silver T-Square.   "THE SILVER T-SQUARE is awarded, by unanimous vote of the NCS Board of Directors, to persons who have demonstrated outstanding dedication or service to the Society or the profession."   And Lucy fits that description perfectly.
Lucy is well known in cartooning circles and academia as the founder and first curator of the Cartoon Research Library.  Since it's creation in 1977, it has grown into a world renowned library and museum housed at the Ohio State University and renamed the  Billy Ireland Cartoon Library & Museum.
Wikipedia has some terrific background information concerning Lucy and the library and museum here.
Congratulations, Lucy, on being awarded the Silver-T!  Very well deserved!