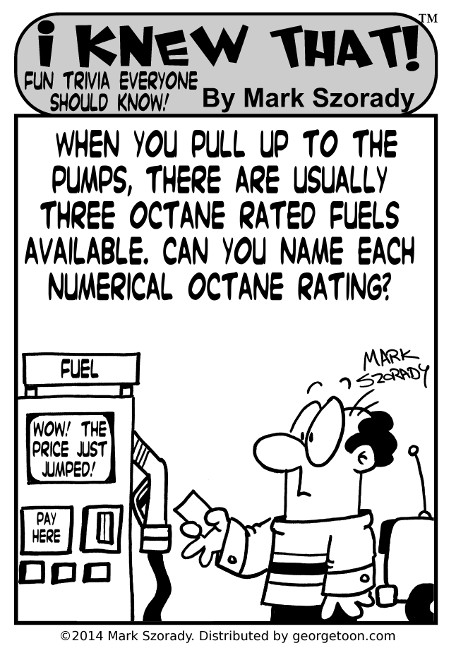 We've just come through the last summer holiday weekend.  Chances are good you had to put some gas in your car.  So, today's post Labor Day "I Knew That!" should be easy!
Answers: (Click, hold down, and move your mouse to the right of the arrow to reveal the answer)===============> 87, 89, and 91.
By
Mark
on August 21st, 2014
Posted In:
Blog
The other day I was tuning in radio shows on the internet.  I happened to hear author Nelson DeMille on the Mark Simone radio show (WOR 710 AM out of  New York, NY).  You can hear the broadcast here.
It seems Amazon.com isn't being as open to writers and book publishers as one would think.  Approximately 900 authors signed an open leter to amazon.  In part it reads:
Amazon is involved in a commercial dispute with the book publisher Hachette , which owns Little, Brown, Grand Central Publishing, and other familiar imprints. These sorts of disputes happen all the time between companies and they are usually resolved in a corporate back room.

But in this case, Amazon has done something unusual. It has directly targeted Hachette's authors in an effort to force their publisher to agree to its terms.

For the past several months, Amazon has been:

–Boycotting Hachette authors, by refusing to accept pre-orders on Hachette authors' books and eBooks, claiming they are "unavailable."

–Refusing to discount the prices of many of Hachette authors' books.

–Slowing the delivery of thousands of Hachette authors' books to Amazon customers, indicating that delivery will take as long as several weeks on most titles.

–Suggesting on some Hachette authors' pages that readers might prefer a book from a non-Hachette author instead.
I love to read.   And if you love to read (and own a Kindle), you'll want to pay attention to this dispute.  It affects authors, publishers and readers.
You can read the entire text of the authors' letter at:
You can also get an encapsulated breakdown of the dispute here.
On my recent visit to the library, I came across a series of books and stories by P.G Wodehouse.
P.G. Wodehouse created Jeeves, the valet/butler/servant to one Bertie Wooster (Bertram Wilberforce Wooster).  Jeeves has become one of the most familiar and enduring fictional characters in publishing history.
Jeeves was first introduced to readers in 1915 and appeared in short stories and novels for the next 59 years.
Jeeves is well known for his brilliant mind, keen sense,  and calm demeanor which enables him to extract his foppish and rich employer from many a tight (and hilarious) situation.  Bertie is a bungler whereas Jeeves is always in full control and precise in all his moves.
The contrast between the two main characters is what makes these stories so delightful.  "Very Good, Jeeves! is the perfect bit of fluff to round out a summer full of reading enjoyment.
Many of the Jeeves stories and books are available at amazon.com as both Ebook for Kindle and hardbound.  But, visit our local library and borrow a copy. You 'll be surprised at what else you may discover among the shelves.
By
Mark
on August 14th, 2014
Posted In:
Blog
As many readers of this blog know, I'm making more and more use of the local library.
I recently finished reading  "Steve Jobs" by Walter Isaacson.  It's a terrific book!
Now I'm working on "Eragon" by Christopher Paolini.  I'm also fitting in "Very Good, Jeeves" (the the Jeeves short stories by P.G. Wodehouse.)
With all these library books going back and forth this summer, how in the world do you keep track of them?  If you miss your due date or simply forget to return that book for several weeks, you could be  looking at a rather hefty fine.
Well, there's a really neat online library service that helps keep track of all your borrowed books! After doing a bit of research, I  immediately  signed up for it!
It's called ELF.
http://www.libraryelf.com
It keeps track of all your loaned books from your local library.  It even keeps tracks of loaned books from multiple libraries if you happen have more than one library card.  (And I do.)
The best part, Elf is absolutely free! Well, it's free when you have only one library card registered.  Multiple cards will require a yearly subscription of $20.00 per year.  Elf does give you a three week trial period to test drive all the premium features.  I'm currently doing this.  After my trial period, I'll probably just move down to the basic free service for my one most used library card.  However, if you're a power library user, the premium service may just be for you.  It could very well help you save $$$ in unwanted library overdue fines.
Who uses Elf?
Anyone who wants to reduce overdues
Families with children and lots of books
Individuals with several library cards
Anyone who requests a lot of holds

What's delivered?
Email and/or RSS alerts before items are due
Email and/or RSS alerts on overdues and holds
Consolidated list of yours or your family's library loans and holds
Cellphone text message alerts for holds (US and Canada)
Real-time checking by browser
With Elf, all you need to do is create an account.  Then enter all your library card user ID numbers (and pin numbers).  Elf then queries those libraries to see what books are loaned to you and when they  are due.  You can then set up an alarm either by email or text (or both) to our own personal parameters and Elf will send you reminders when the book is close to its due date.
I was setting up my own alarms in Google Calender to warn me of books coming due.  No more!  Now, ELF does it all!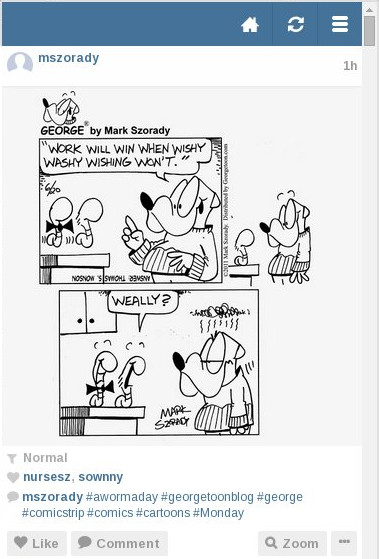 You can now follow George on Instagram.
Sometime last year, my nephew Tom suggested I start posting a worm drawing on Instagram every day under the hashtag of #awormaday.  I thought this was a great idea and immediately  jumped in!
It now appears to have morphed into posting my comic strip George, as wel las showcasing my other cartoon doodles and drawings….and even some personal photos of family and friends.
But, each day you can be sure to find a fun cartoon drawing/comic strip of some sort.
So, follow me!  I'm mszorady on Instagram!