I love coming across simple little solutions for everyday problems. Here's one I just stumbled upon the other day!  And it works like a charm!  For all you wet shavers out there!
And if you need a real shave stand for your brush and razor at a great price, then check out The Shave Stop!  You'll find razors, brushes, stands. blades, and other items that will help give you the greatest shave of your life!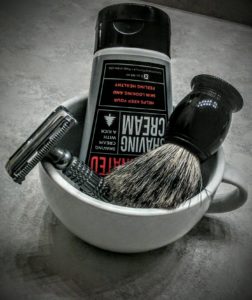 I was perusing the internet the other day and came across this Ebay blog post, "5 Tips to Help You Wake Up Early."
The one point that caught my interest was Number 4. "Plan a Nice Start to the Day." The author suggests setting some time aside in the morning for reading a book or newspaper in order to relax and open the mind a bit.
Well, if you've switched to wet shaving with  a double edge razor, you're already ahead of the curve on this one!
Wake up 15-20 minutes earlier and go through the process of giving yourself a shave the RIGHT way!
Here are some tips to help you get that great morning shave EVERY morning! (For more wet shaving tips, and shaving with a safety razor,  check my youtube channel.)
Soak your shaving brush in warm water.  I use The Vikings blade badger brush.  It's a high end shaving brush at an affordable price
Then, take a good hot shower to help soften your beard
After your shower, wring out your shaving brush a bit and whip up a good lather in a shaving mug or bowl. Use a good shaving soap or cream. 
Use a good sharp blade and a good, well-made and balanced razor. For blades, I recently started using Personna blades. These are wonderfully sharp but also very smooth.   They provide for a smooth, close shave.  My razor of choice is The Godfather by Vikings Blade.  It's a three-piece, long handled shaving razor with a low profile razor head.  It gives a close, smooth shave with no nicks or cuts or razor irritation.  If you want something in the area of a butterfly razor, then give Vikings Blade's The Chieftain a try.
Do two to three shave passes. Lather your face with your brush, then shave with the grain (usually a down stroke).  After completely shaving the face, rinse. Then, re-lather and shave across the grain (just as i sounds. Shave horizontally across the face).  After completing this second pass, rinse again.  If needed, do a third pass by re-lathering once more and shave against the grain (uusally an up stroke.)
Use short two inch shave strokes and remember, DO NOT PRESS DOWN.  Touch the skin LIGHTLY with the razor and blade.  Let the cutting angle of the blade and the weight of the handle do the work.
After finishing the shave, moisturize and protect your skin with a good after shave balm.
If you start your morning wet shaving with a safety razor, I promise you, you'll never go back to an electric razor, multi-blade razor, or any other new-fangled razor.  You'll feel great, invigorated to take on the day and, in the process, be saving a lot of money!  Shaving with a double-edge safety razor is much more cost effective than shaving with cartridge razors.
If you're just starting out, or considering switching back to wet shaving with a safety razor, I encourage you to check out The Shave Stop.  You'll find the best shaving items at great prices!

Blue.  As in, Personna Blue.  It's a fantastic double edge razor blade that is really very smooth and comfortable.  The blades are sharp!  but because of some sort of coating, they are incredibly smooth.  At only $13.00 for 100, you can use a new blade with each shave!
You can get them at The Shave Stop.  And while you're there, give The Godfather razor a look (I love mine!), as well as all Vikings Blade shaving products.
By
Mark
on September 20th, 2016
Posted In:
Blog
This past Sunday, I attended the Chalk Festival at the Cleveland Museum of Art.  It's been years since I picked up a piece of chalk.  But, what a lot of fun!  There's something quite inviting to getting down on your hands and knees and drawing on smooth piece of sidewalk!
Working with chalk is quite different from the pen and ink, pencils, and pens I use every day to create my cartoons and comic features.   But, I gave it a go and had an enormous amount of fun along the way!
The above video features my contribution to the festival as well as the chalk artwork some of the other outstanding artists who made the day a really memorable event.
My nephew Tom drew the sea serpent.  My niece Brynn did the "CLE" tribute to Cleveland, and niece Kelly (along with her friend Rob), came up with a rather colorful and humorous unicorn drawing.:)
If you live in Northeast Ohio, make it a point to visit this festival or even rol up your sleeves and
Are you looking for a razor blade that is sharp, yet gives a smooth shave? Well, I tried a single Personna razor as a sample a week ago and liked it so much, I bought 100 more!
You can get them at the Shave Stop.  100 blades costs only $13.11!   If you have Prime, then two-day shipping is free!