By
Mark
on June 30th, 2016
Posted In:
Blog
I know that cartoonists are really creative people.  But, we take for granted the truly ingenious people working in industries that one would not think as being creative.
Case in point is this caffeinated shaving cream by Pacific Shaving Company.  It's a unique, and creative, approach to a long-standing staple of the morning shave routine.  By adding the creative twist of caffeine, the product now stands out!  It also brings the user all the healthful benefits of caffeine. VERY creative!
I've used it and it's great!  You can find this and other great shaving products at The Shave Stop.
By
Mark
on June 28th, 2016
Posted In:
Blog
As I mentioned in an earlier post, I soetimes get my ideas for my comic features when I'm thinking about something else.  It's a lot like trying to come up wit an answer to a question.  You KNOW the answer but you just cannot seem to bring it to the front of your mind.  It's only when you stop struggling and think aobut something else does the answer suddenly pop into your head.
Writing a comic strip is similar.  Driving, shaving, going for a walk, exercising, etc. provides a break from the struggle of trying to create new ideas.  While I'm doing these every day things is when a fun or funny idea will pop into my head.  I've got to be sure to write it down immediately or it will be lost forever.
IU mentinee shaving because I've recent;y changed my entire shaving routine, as have many othe men.  Wet shaving is now al lthe rage.  If you're considering giving a safety razor a try, this video will give you a few tips and some products to try out.  You can find all products featured in this video at The Shave Stop.
By
Mark
on June 24th, 2016
Posted In:
Blog
Last night, at the Chagrin Falls Library, I had the great pleasure of attending a talk given by Cleveland's own Neil Zurcher!
Many Northeast Ohioans know Neil as the VERY FIRST and original "One Tank Trip" reporter on Cleveland Fox 8 WJW TV.   For nearly 40 years Neil has been traveling the roads of Ohio, and beyond, reporting on unique and entertaining travel stops that are only a "One Tank Trip" from Cleveland, Ohio.
This is Neil's farewell tour.  He's retiring this year.  But you have a great opportunity to see Neil in person as he continues to criss-cross the area gving talks and signing copies of his books.
Get all the details about Neil, his upcoming appearances and more at OneTankTrips.com. You can follow Neil on twitter at @NeilZurcher.   You can order Neil's newest book here.
It was a terrific event!  Make sure to mark your calendar for Neil's next appearance at a library or community center near you!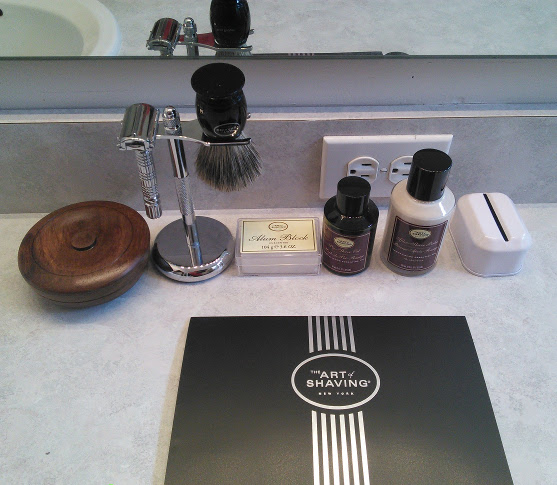 As a cartoonist, the number one question I get is, "Where do you get your ideas?" And that's an easy question to answer.
Ideas come to me when I'm engaged in doing everyday activities. During the morning shower or shave. Perhaps when I'm driving my car. When I'm out for a walk or exercising.  Ideas come to me when I'm just doodling on a piece of paper.  Sometimes, I'll sketch something and, just out of the blue, it'll turn into an idea for my comic strip or other comic feature.
Ideas come to me when I'm not really looking for them.  But it's almost always when I'm concentrating on doing some other activity.
This is why I posted a picture of my shaving stand.  It's that early morning routine when ideas are most likely to pop into my head.  And since switching to a wet shaving routine (with a double edge razor), I've slowed down the morning shave a bit.  And this gives me more time to allow my mind to wander and toss around various items on my  to do list for the upcoming day.  And that leads to ideas!
Now, if you're a guy and you're using disposable razors, cartridge razors, or electric razors, give a safety razor a second look.  In the long run, you'll save tons of money and you'll get an amazing shave!
I switched back and not only do I get a great shave, but lots of ideas for cartoons!
Here's what I recommend:
The Vikings Blade Razor.   For the money, absolutely the best razor out there.  Seriously, I love this razor.  Read my full review on amazon and then buy one for yourself.  You will not regret it.  My first shave had no nicks, cuts, or burns.  Amazing.  I'm still learning proper technique, etc.  Just remember to use a good lather, hold the razor at the proper 30 degree angle, and use a light touch.
The Art of Shaving soap.  A great soap that lathers up nicely and it comes in a terrific teak wood bowl.
The Art of Shaving Pre-shave oil.  This is a MUST!
Want some really nice, top-shelf shaving products?  Then check out The Art of Shaving's online store and experience the perfect shave!
A Good Shaving Brush.  Just starting out with DE shaving?  The Perfecto brush is a perfect brush and available at a perfect price.  Are you a more experienced shaver and need something new?    Then check this brush from The Art of Shaving.
An Alum Block.  This will absolutely heal nicks and cuts plus minimize razor burn.  However, if you use the pre-shave oil and a good soap that lathers well, you won't have to worry about razor burn that much.
After-shave Balm.  You can go with Neutrogena or Bulldog.  I really like The Art of Shaving's Sandalwood after-shave balm.
A Blade Bank.  This is for the safe disposal of used razor blades.  I bought mine from West Coat Shaving for a buck.   Amazon also sells one.   Now, if you live in an older home, you just may already have one built in, which is how they disposed of used razor blades in years past.
You can get all the above items (except the blade bank) at The Shave Stop.
There are plenty of tutorials on how to shave with a safety razor.  Youtube is loaded with them.  But this one is absolutely THE best.
By
Mark
on June 7th, 2016
Posted In:
Blog
I've been doing more and more cloud computing lately.  I use a lot of Google's services and applications to accomplish my everyday tasks.  I find myself using Gmail, Google Photos, Google Docs, and Google Drive.  I access these programs while using the Google Chrome browser.  Regardless of which Linux computer or Android tablet I'm on, I can update this blog, email business associates, send photos or comic strips to clients, and never have to worry about losing any of my data.
If you're a regular reader of this blog, you know that I'm a very devoted Linux user.  I run Linux on all my computer systems.  And in running Linux, I have the best of both worlds!   I can run Linux and all its great programs to create my comic strip features (GIMP, Scribus, etc.) and run the Chrome browser which gives me access to all things Google!
However, just as I use a Google Nexus Tablet to do everyday tasks, I'm leaning toward  getting a Chromebook for mobile computing.  My research has lead me to a terrific Chromebook at a terrific price!
The ASUS C201 11.6 Inch Chromebook (with Rockchip processor, 4 GB RAM, 16GB SSD, in Navy Blue) is a perfect starter Chromebook.  For under two hundred dollars, it has plenty of memory and processing power.  And it gives you a battery that allows you
 to do all day computing with having to be constantly plugged in.
Because I use Linux, would I be missing those programs?  Not at all!  I addressed this in a previous post here.
The point is, a Chromebook would not be my main system.  I still have rock solid Linux desktops to do all the heavy lifting in my studio.  But, when I'm out and about, a Chromebook will help me get regular, less demanding tasks done.  And I can save this data in the cloud and access it later on my desktop system in my studio.
There's no need to spend thousands of dollars on a Windows or Mac laptop system.   For under two hundred bucks, a Chromebook can meet all your computing needs.
So, I hope to acquire this Chromebook in the near future.  For the time being, I'm happy to use the Chrome browser on my Linux systems.
And, there is one other option.  And this is the beauty of Linux!  There are many used/refurbished laptops available at affordable prices.   Doing a quick search on Amazon, I found this laptop.  For only $155.00, you get a FULL computer with DVD drive.  If I were to buy this, I would certainly wipe Windows and install Linux and run the Chrome browser!  As I said, the best of both worlds!  And, you never know when you may come across a used laptop for even cheaper!  (However, I concede that a Chromebook weighs less and is much more mobile with longer battery life.)
When the time arrives and if I find myself in possession of a brand new Chromebook, I'll be sure to review it here.