Put on your thinking acps. Well, not too tightly because this is a questions ANYONE should be able to answer!  That's why it's called, "I Knew That!"
Click, hold down, and move your mouse to the right to reveal the answer)=======>  "If you find yourself in a hole, stop digging."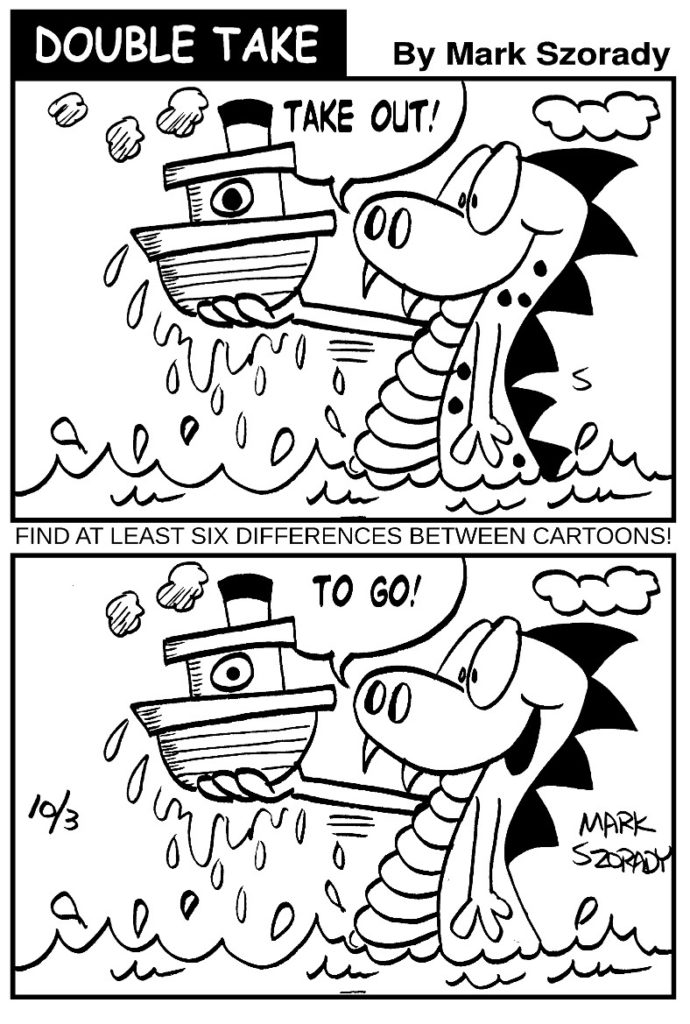 It's time to have a little bit of fun featuring my comic game panel "Double Take!" See if you can find all the differences.
Now, did you find all the differences? You can check the answers here. (Click, hold down, and move your mouse to the right to reveal the answer)======> (1)Porthole different; (2)Back spines missing; (3) Spots missing; (4) Smoke cloud missing; (5) Mouth different; (6) Word balloon different
By
Mark
on October 19th, 2016
Posted In:
Blog
The Cleveland Indians are headed to The World Series for the first time since 1997! Game one is Tuesday Night in Cleveland! Go Tribe!!
By
Mark
on October 18th, 2016
Posted In:
Blog
I love to read!  And I've gotten into the habit of buying books at local library book sales.  A week or so ago I started reading one of the books I got on sale (for only a buck!).  It's a like-new hardcover copy of Tom Wolfe's "The Bonfire of the Vanities."
Coincidentally, I read an article a few days ago that Chuck Lorre (the creator of "The big Bang theory") is developing "The Bonfire of the Vanities" for Amazon television.  Right now, you can pick up a nice hardbound copy of this New York times bestseller for only a buck or two at a local library book sale.  However, once the television program hits the airwaves, expect the price to increase considerably as the publisher rolls out new copies.
So get ahead of the curve!  Grab a gently used copy for pennies, give it a read, and you'll be familiar with the material when the series launches on Amazon!  And you'll save yourself twenty bucks!
(By the way, you can also get a used hardcover copy on Amazon for only a buck!  But you'd better hurry!)
Razor blades are sharp. You need to handle them carefully.
Luckily, a safety razor allows you to use a razor blade safely and efficiently. However, for the first-time user, loading a blade can be bit daunting and intimidating.
Butterfly safety razors are the easiest to load.  Just twist the bottom of the handle, the double doors on top of the razor head open, drop in a blade, twist to close, and you're done.
A three-piece razor is just a bit more involved.  In the above video, I show how I load a blade.  I'm using my Vikings Blade Godfather razor.  It's a terrific razor and has quickly become my favorite to use.  Once the blade is loaded in The Godfather, it's always perfectly aligned!
If you prefer to use a butterfly razor (when I first started to wet shave, a butterfly razor was the first kind I used), then I highly recommend The Chieftain by Vikings Blade.  (When I finally came back to wet shaving with a safety razor, this is the first one I bought.)
Both razors are precision shaving tools and sold at an affordable price!  They are very well-made and crafted using premium materials.  And they both have an International lifetime warranty against manufacturer defects.  Most importantly, they give you a close and comfortable shave without nicks, cuts, razor burn, or irritation.  I love mine!