By
Mark
on November 24th, 2015
Posted In:
Blog

I love tech and gadgets.  And I use a lot of different devices and digital tools to help me create my comic strip "George" and other cartoon features.
With this in mind, I wanted to pass along a quick tip regarding the Chromebook.  More and more, schools around the country are issuing students Chromebooks to use in class.  So, if you're one of the lucky ones to bring home this terrific device, here's a quick tip to help you organize things.
By
Mark
on November 19th, 2015
Posted In:
Blog

If you've visited this blog or my YouTube channel before, you know that I'm a big advocate of Linux.  I use Linux on all my desktop and notebook computers.  I use GIMP Photo Editing, Scribus Desktop Publishing, LibreOffice Suite and others to create my comic strips, panels, blog posts, etc.
Lately, I've been very intrigued with the Chromebook.  I like the idea of cloud computing and always having your data and files close by.  It's a neat concept. Even if you lose your Chromebook (or other device), you still have access to your files.  But, unfortunately, not having access to Linux programs on a Chromebook has always been a deal-breaker.  Until now.  rollApp.com allows you to run all these terrific Linux Open source Programs in the cloud in a Chromebook. In fact, you can run all available programs, on rollApp.com, on a Chromebook and across all platforms (Mac,Windows, Linux, Smart Phone,tablet, iPad, etc.)  It really is a brilliant idea.
However, there is a subscription involved.  It's free to open and view files in all programs on all your devices.  But, if you wish to SAVE a file, then there's a nominal fee involved. It works out to about $72.0 per year.  (rollApp gives you a 14 day trial period to save files and give things a good test drive).  Is a subscription service right for you?  Well, it all hinges on your own situation and priorities.
In comparison, Netflix is $8.99 per month.  That's an annual fee of $107.88.  The average ticket price to attend a movie is around nine dollars.  Add in another ten bucks for concessions and a visit to the movies costs almost 20 bucks.  (Double that if you're taking a date.)  If you attend four times a year, that's 80 dollars for one person.
So now, $72.00 a year for rollApp, which allows you to do something productive, doesn't seem too much to spend.
As I mention in the above video, you're either going to spend time or money.  You could spend the time to learn Linux, get an older used computer box, download the program, install it, and learn the ropes.  I've done this as have many, many others.  And it's a GREAT learning experience.
But, if all you have is a Chromebook, and you need additional tools, and don't have the time to learn a new Operating system, etc…then rollApp is the perfect solution.  It costs less than online streaming services and allows you to be productive.  In addition, rollApp gives you a great look at what's available in the Linux world, all in one place.  (In Windows/Mac, you have to hunt down all these programs yourself.)
So, if you're a Chromebook user and are looking for a set of powerful computing programs that'll make you more productive and creative, get a rollApp.com account and give your Chromebook some new tools.  And who knows?  It may serve as an introduction to Linux.  So much so, that you'll actually download, install, and use Linux.
By
Mark
on November 17th, 2015
Posted In:
Blog
I thought I'd do a follow up to my CRT TV/Converter box post.  I know a lot of readers, like me,  continue to use these great old TVs.  In fact, these are the only kind of television I have in my home studio.  I love 'em!  They're built like tanks, give you a great 480p picture, have some terrific stereo speakers…and the best part of all?  People are giving them away for free or asking very little in cash.  The hardest part is moving them because, yes, they can be quite heavy (especialy the 36-inch tubes).  But 20 bucks (or free)  for a TV is a terrific deal!
Besides their weight and size, one of the other reasons some folks abandon these great old TVs is due to not being able to get a streaming device to work with it.  The absence of an HDMI input port is the main obstacle.  The only streaming device that comes to mind which can make the transition to an older TV is the Roku 2
.  It has the option to use HDMI (for newer HDTVs) or audio/video output ports using cables to input to older TVs.  So, if you don't have an HDMI port on the TV, you can use the AV cables.
But, what happens if, this Christmas, a family member gives you an Amazon Fire TV Stick
?  Well, don't run out and buy a $500.00 television just so you can use a $40.00 device.  There's a very cost effective solution.  You see, this same thing happened to me.  My nephew Michael gave me, as a gift, an Amazon Firestick.  All I had at home was an older tube TV.  (Did I mention I really like these old CRTs?:))
Well, Amazon came to the rescue with the Baitaihem HDMI to AV Composite RCA CVBS Video + Audio Signal Converter For TV
!  The above video shows how easy it was to get it to work with my television set-up!
(Please note:  My device was a different brand than the Baitahem.  But identical in every way.)
By
Mark
on November 12th, 2015
Posted In:
Blog
When I'm in the studio creating a comic feature, I like to have a radio or television turned on.  It helps fill the air with some background music or talk.  It also keeps me abreast of any breaking news.
But, subscription television is getting pricey.  So, I canceled my cable subscription and installed an antenna.  Local broadcasters have noticed this shift to over-the-air viewership and have expanded their channel offerings.  Digital broadcasting allows for sub-channels.  So, if your local station is channel 8, you may find that there's also a channel 8.1, 8.2, etc.  You'll happily find that your local station is transmitting two, three, four or more sub-channels featuring news, weather, local talk shows, and classic television programs.
Which brings me to the point of how to get those free signals without shelling out a lot of cash.  If you're like me, you probably still have those big, beautiful CRT (Cathode Ray Tube) television sets in your home.  And because they're analog, you might think they're obsolete!  Well, they're not!  You don't have to run off to the local big box store to plunk down $400.0 or more for the latest Flat screen HDTV to receive over-the-air television.  All you need is an antenna and a digital converter box.
In the above video, I show you one of the converter boxes I own and how it breathes new life into a big 'ol 36-inch CRT.
And here's the best part.  People are giving away these televisions!  (They find that they might be too heavy or cumbersome or take up too much space.)  Many folks are giving away their converter boxes too.  In addition, you can find either of these for sale at garage sales or online for 10 to 20 dollars.  No kidding!  TVs for as little as 10 bucks or even free!  Converter boxes for 10 or 20 bucks (I bought one, like new, for five bucks!)
So, before you dump a perfectly good television, explore the option of a getting an antenna and converter box to receive free TV.   You'll get some great programming and your wallet will thank you.
By
Mark
on November 10th, 2015
Posted In:
Blog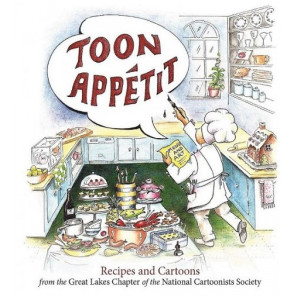 I'm a member of The National Cartoonists Society and belong to the local Great Lakes Chapter.
Recently, our chairman Polly Keener spear-headed an idea for a cartoonists cookbook.  All the cartoonists in the chapter got together and contributed recipes and cartoon art.  It's a really delightful book chock-full of terrific recipes that run the gamut from down-home favorites to international dishes (I contributed my mother's recipe for Hungarian Chicken Paprikash!)
You can get a copy online at Braughler Books.  It makes a great gift or stocking stuffer!