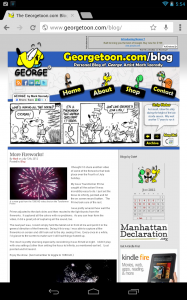 If you recently viewed my blog, you may have noticed an ad in the upper right for the new Google tablet. It's the Nexus 7 and it even has an Apple iPad user praising it.
This is Google's first entry into the very competitive tablet market.  They upped the ante by setting the price at $199.00 and packing the device with a lot of nice features.  It's a 7 inch tablet with a front facing camera, WiFi 802.11 b/g/n, blue-tooth, hi rez screen (7" 1280×800 HD display (216 ppi)), and a Quad-core Tegra 3 processor.
The big attraction, though,  is that the Nexus 7 runs the latest Android OS.   Android 4.1, a.k.a. Jellybean.
And because it's Google, it comes with all your favorite Google apps like Gmail, Chrome, YouTube, and Google+.  If you already have a Google account, getting the Nexus 7 up and running is as easy as logging in.
My nephew Mike pre-ordered one and it arrived just yesterday.  We've been exchanging emails and he's been sending screen shots.  From what Mike is telling me, and the screen shots I've seen from its 7 inch screen, this tablet is pretty awesome.
Apple is looking over their shoulder and amazon now has to play catch-up.  And it looks like I'm going to have to take down the Kindle Fire ad.